If you are looking for additional security for your gates, you may be in the market to add a maglock to your driveway gate!
Electromagnetic locks, or maglocks, are a great way to further secure your gate. When installed, maglocks secure gates by using an electrical current to produce a magnetic force. When activated, the gate cannot be forced open making them ideal when needing additional security.
Depending on your gate, we recommend either a 1200 lb. maglock or a 600 lb. maglock.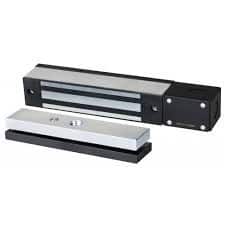 How Does a Maglock Work?
Maglocks create a magnetic field when activated. The magnet and the connecting plate, the armature magnetizes to each other to keep your gate from opening, creating a very secured gate. The power of the maglock ensures that the gate it is welded on cannot be broken due to simply apply a bit of force.
Call a Repair Company You Can Trust!
We know that our customers would like to have high quality work that is done right the first time That is why Hotshot Gate Repairs makes sure that our repairs and installations are done by highly trained and professional technicians.
Our staff at Hotshot Gate Repairs are more than happy to answer all your questions regarding the repair or installation of your maglock. We make sure to give you an honest and affordable price. Call a repair company you can trust, call Hotshot Gate Repairs today!